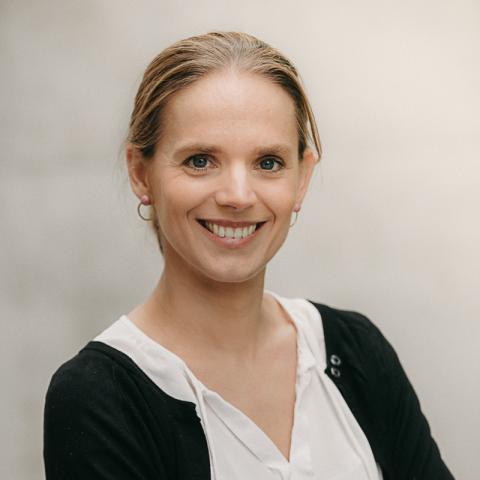 Member of the Scientific Board
Prof. Dr.-Ing. Laura De Laporte
Research Area Advanced Materials for Biomedicine
Research interest
Laura De Laporte develops biohybrid and bioinspired materials for advanced medical applications, for example to replicate the complex structure of natural tissues. To achieve this, she is working on new synthetic material concepts and new methods of manufacture, combining engineering, chemistry and biology to design biomaterials that control and direct the interaction with cells. Her team designs low-invasive, polymeric regenerative hydrogel therapies, consisting of nano –and micron-scale building blocks that orient after injection to repair anisotropic tissues, such as the spinal cord. In addition, dynamic hydrogels are created for drug delivery and to study mechanobiology.
Laura De Laporte's publications via ORCID
Curriculum Vitae

Prof. Dr.-Ing. Laura De Laporte is a Chemical Engineer from the University of Ghent (Belgium), where she got the tissue engineering microbe. To follow her dream, she did her PhD with Prof. Lonnie Shea at Northwestern University (Evanston, US) and engineered guiding implants for nerve regeneration. At EPFL (Lausanne, Switzerland), she learned about regenerative hydrogels in Prof. Jeffrey Hubbell's group during her post-doctoral research. From 2013 to 2018, Laura De Laporte led a junior group at the DWI – Leibniz Institute and was awarded a Starting Grant from the European Research Council in 2015. In October 2017, she finished her Habilitation in the Chemistry Department of the RWTH and since September 2018, she is an Associated Professor (tenure-track) in the same Department. In 2018, she was one of five excellent female researchers who have received funding from the Leibniz Programme for female Professors.
Projects
Publications

Titel/Autoren
Magazine
Jahre

Anisometric Microstructures to Determine Minimal Critical Physical Cues Required for Neurite Alignment

S. Vedaraman, A. Perez-Tirado, T. Haraszti, J. Gerardo-Nava, A. Nishiguchi and L. De Laporte

Advanced Healthcare Materials
2021
Zur Publikation

Bicyclic RGD peptides enhance nerve growth in synthetic PEG-based Anisogels

S. Vedaraman, D. Bernhagen, T. Haraszti, C. Licht, A. Castro Nava, A. Omidinia Anarkoli, P. Timmerman and L. De Laporte

Biomaterials Science
2021
Zur Publikation

Controlling Structure with Injectable Biomaterials to Better Mimic Tissue Heterogeneity and Anisotropy

S. Babu, F. Albertino, A. Omidinia Anarkoli and L. De Laporte

Advanced Healthcare Materials
2021
Zur Publikation

Is the Microgel Collapse a Two-Step Process? Exploiting Cononsolvency to Probe the Collapse Dynamics of Poly-N-isopropylacrylamide (pNIPAM)

K. Nothdurft, D. H. Müller, S. D. Mürtz, A. A. Meyer, L. P. B. Guerzoni, A. Jans, A. J. C. Kühne, L. De Laporte, T. Brands, A. Bardow and W. Richtering

Journal of Physical Chemistry B
2021
Zur Publikation

Cellulose Nanofibril Hydrogel Promotes Hepatic Differentiation of Human Liver Organoids

M. Kruger, L. A. Oosterhoff, M. E. van Wolferen, S. A. Schiele, A. Walther, N. Geijsen, L. De Laporte, L. J. W. van der Laan, L. M. Kock, B. Spee

Advanced Healthcare Materials
2020
Zur Publikation

Digitally Fabricated and Naturally Augmented In Vitro Tissues

D. F. Duarte Campos and L. De Laporte

Advanced Healthcare Materials
2020
Zur Publikation

Granular Cellulose Nanofibril Hydrogel Scaffolds for 3D Cell Cultivation

D. B. Gehlen, N. Jürgens, A. Omidinia‐Anarkoli, T. Haraszti, J. George, A. Walther, H. Ye and L. De Laporte

Macromolecular Rapid Communications
2020
Zur Publikation

Hierarchical fibrous guiding cues at different scales influence linear neurite extension

A. Omidinia-Anarkoli, J. W. Ephraim, R. Rimal and L. De Laporte

Acta Biomaterialia
2020
Zur Publikation

How Much Physical Guidance is Needed to Orient Growing Axons in 3D Hydrogels?

J. C. Rose, D. B. Gehlen, A. Omidinia‐Anarkoli, M. Fölster, T. Haraszti, E. E. Jaekel and Laura De Laporte

Advanced Healthcare Materials
2020
Zur Publikation

Unravelling colloid filter cake motions in membrane cleaning procedures

A. Lüken, J. Linkhorst, R. Fröhlingsdorf, L. Lippert, D. Rommel, L. De Laporte and M. Wessling

Scientific Reports
2020
Zur Publikation

A Layer-by-Layer Single-Cell Coating Technique To Produce Injectable Beating Mini Heart Tissues via Microfluidics

L. P. B. Guerzoni, Y. Tsukamoto, D. B. Gehlen, D. Rommel, T. Haraszti, M. Akashi, L. De Laporte

Biomacromolecules
2019
Zur Publikation

Cell Encapsulation in Soft, Anisometric Poly(ethylene) Glycol Microgels Using a Novel Radical-Free Microfluidic System

L. P. B. Guerzoni, J. C. Rose, D. B. Gehlen, A. Jans, T. Haraszti, M. Wessling, A. J. C. Kuehne and L. De Laporte

Small
2019
Zur Publikation
Team