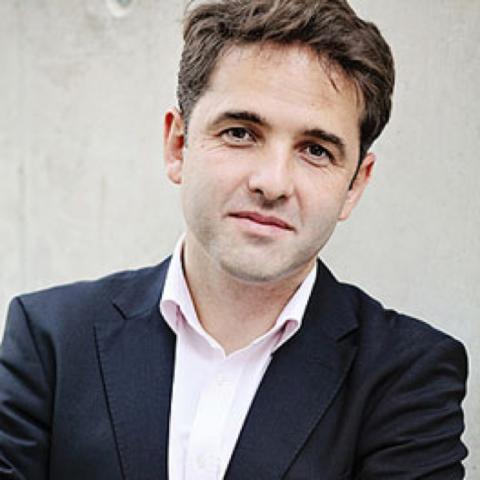 Member of the Scientific Board
Prof. Dr. Andrij Pich
Research Area Functional and Interactive Polymers, Institute for Technical and Macromolecular Chemistry, RWTH Aachen University
Research interest
The research group of Andrij Pich has acquired many years of expertise in synthesizing functional polymers and colloidal particles with controlled chemical structure and morphology. He draws inspiration from biological systems and focuses in particular on the chemical design of macromolecules that react to external stimuli, assemble independently and degrade programmably. His reserach group has great expertise in the synthesis of nano- and microgels and their use for the production of soft, interactive materials with active properties. Such properties are, for example, changes in shape, the recognition of certain structures or the possibility of regeneration for use in catalysis, plant breeding, biomaterials and coatings.
Andrij Pich's publications via ORCID
Curriculum Vitae

In 2009 Andrij Pich was appointed to Lichtenberg Professor for Functional and Interactive Polymers at RWTH Aachen University. Since 2019 he is also a Professor for Biobased Polymers at Maastricht University (part time professorship). After studying chemical technology in Lviv/Ukraine he received his PhD from the Technical University Dresden in 2001. In 2006/2007 he was a postdoctoral fellow at the University of Toronto/Canada. In 2007 he received the Georg Manecke Award of the GDCh (German Chemical Society) and completed his habilitation in 2008 at Technical University Dresden. His research focusses on the synthesis of functional polymers and polymer colloids with variable chemical structures and morphologies and their use for the design of functional and interactive materials.
Projects
Publications

Titel/Autoren
Magazine
Jahre

Dendrimer-decorated nanogels: Efficient nanocarriers for biodistribution in vivo and chemotherapy of ovarian carcinoma

X. Li, Z. Ouyang, H. Li, C. Hu, P. Saha, L. Xing, X. Shi and A. Pich

Bioactive Materials
2021
Zur Publikation

Dual responsiveness of microgels induced by single light stimulus

M. Bekir, J. Jelken, S.-H. Jung, A. Pich, C. Pacholski, A. Kopyshev and S. Santer

Applied Physics Letters
2021
Zur Publikation

Intelligent nanogels with self-adaptive responsiveness for improved tumor drug delivery and augmented chemotherapy

X. Li, H. Li, C. Zhang, A. Pich, L. Xing and X. Shi

Bioactive Materials
2021
Zur Publikation

Multi-Responsive Biodegradable Cationic Nanogels for Highly Efficient Treatment of Tumors

X. Li, H. Sun, H. Li, C. Hu, Y. Luo, X. Shi and A. Pich

Advanced Functional Materials
2021
Zur Publikation

Polymers are omnipresent - also in the global fight against the coronavirus

J. Köhler, A. Thoma, S. Braun, A. Pich and A. Herrmann

Chemie in unserer Zeit
2021
Zur Publikation

Protecting redesigned supercharged ferritin containers against protease by integration into acid-cleavable polyelectrolyte microgels

M. Budiarta, W. Xu, L. Schubert, M. Meledina, A. Meledin, D. Wöll, A. Pich and T. Beck

Journal of Colloid and Interface Science
2021
Zur Publikation

Protecting redesigned supercharged ferritin containers against protease by integration into acid-cleavable polyelectrolyte microgels

M. Budiarta, W. Xu, L. Schubert, M. Meledina, A. Meledin, D. Wöll, A. Pich and T. Beck

Journal of Colloid and Interface Science
2021
Zur Publikation

Stimuli-responsive microgels with cationic moieties: characterization and interaction with E. coli cells

L. Hussmann, T. Belthle, D. E. Demco, R. Fechete and A. Pich

Soft Matter
2021
Zur Publikation

Thermoresponsive zwitterionic poly(phosphobetaine) microgels: Effect of macro-RAFT chain length and cross-linker molecular weight on their antifouling properties

P. Saha, A. R. Palanisamy, M. Santi, R. Ganguly, S. Mondal, N. K. Singha and A. Pich

Polymers for Advanced Technologies
2021
Zur Publikation

A dual thermoresponsive and antifouling zwitterionic microgel with pH triggered fluorescent "on-off" core

S. L. Banerjee, P. Saha, R. Ganguly, K. Bhattacharya, U. Kalita, A. Pich and N. K. Singha

Journal of Colloid and Interface Science
2020
Zur Publikation

Biocatalytic microgels (μ-Gelzymes): synthesis, concepts, and emerging applications

M. Nöth, E. Gau, F. Jung, M. D. Davari, I. El-Awaad, A. Pich and U. Schwaneberg

Green Chemistry
2020
Zur Publikation

Biofunctionalized zinc peroxide nanoparticles inhibit peri-implantitis associated anaerobes and Aggregatibacter actinomycetemcomitans pH-dependent

K. Fröber, C. Bergs, A. Pich and G. Conrads

Anaerobe
2020
Zur Publikation
Team