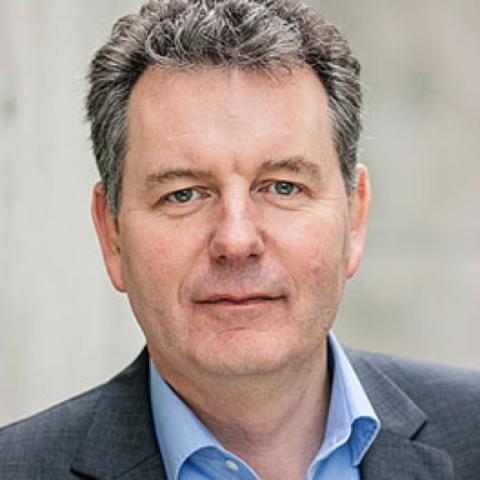 Member of the Scientific Board
Prof. Dr.-Ing. Matthias Wessling
Vice-Rector for Research and Structure, RWTH Aachen University, Chair for Chemical Process Engineering
Research interest
The aim of Matthias Wessling's research is to integrate selective mass transfer and conversion into micro-, meso- and macroscopic systems. In particular, he focusses on systems with functionalities controlled by tailored interfaces. Macroscopic systems are being analyzed, modeled and developed at his chair for Chemical Engineering at RWTH Aachen University (Aachener Verfahrenstechnik). At DWI, Matthias Wessling focuses on micro- and mesoscopic systems which integrate basic principles of boundary layers: (a) selective mass transport, (b) molecular-specific conversion and (c) charge transfer. The overall aim is to synthesize interactive materials systems inspired by nature. Using existing and novel materials, complex interactive structures are engineered and their structure-function relationship is analyzed in stable or transient pressure, concentration and electrical charge gradients. Applications are energy storage, water treatment and medical engineering.
Matthias Wessling's publications via ORCID
Curriculum Vitae

Matthias Wessling heads the Chair of Chemical Process Engineering at RWTH Aachen University. He is Vice-Rector for Research and Structure at the RWTH Aachen University and a member of the DWI Scientific Board. He was Vice Scientific Director of the DWI from 2015 to 2018. He is Editor of the Journal of Membrane Science. After studying chemical engineering in Dortmund and Cincinatti, he did his PhD in Twente/NL. He was Senior Research Scientist at Membrane Technology and Research Inc., Menlo Park, CA and head of the Department of Separation Processes at Akzo Nobel. From 2000 to 2010, he was Chair of Membrane Science and Technology at the University of Twente.
Projects
Publications

Titel/Autoren
Magazine
Jahre

3D-Printed Bioreactor with Integrated Impedance Spectroscopy for Cell Barrier Monitoring

G. Linz, S. B. Rauer, Y. Kuhn, S. Wennemaring, L. Siedler, S. Singh and M. Wessling

Advanced Materials
2021
Zur Publikation

A scalable bubble-free membrane aerator for biosurfactant production

P. Bongartz, I. Bator, K. Baitalow, R. Keller, T. Tiso, L. M. Blank and M. Wessling

Biotechnology and Bioengineering
2021
Zur Publikation

An electro-Fenton process coupled with nanofiltration for enhanced conversion of cellobiose to glucose

R. G. Keller, J. Weyand, J. B. Vennekoetter, J. Kamp and M. Wessling

Catalysis Today
2021
Zur Publikation

Automated tangential-flow diafiltration device

A. Lüken, M. Bruckhaus, U. Kosfeld, M. Emondts and M. Wessling

HardwareX
2021
Zur Publikation

CNT Microtubes with Entrapped Fe3O4 Nanoparticles Remove Micropollutants through a Heterogeneous Electro-Fenton Process at Neutral pH

M. Mohseni, K. Demeestere, G. Du Laing, S. Yüce, R. G. Keller and M. Wessling

Advanced Sustainable Systems
2021
Zur Publikation

Combining Manning's theory and the ionic conductivity experimental approach to characterize selectivity of cation exchange membranes

T. Luo, Y. Zhong, D. Xu, X. Wang and M. Wessling

Journal of Membrane Science
2021
Zur Publikation

Efficient Electrocatalytic N2 Reduction on Three-Phase Interface Coupled in a Three-Compartment Flow Reactor for the Ambient NH3 Synthesis

X. Wei, M. Pu, Y. Jin and M. Wessling

ACS Applied Materials & Interfaces
2021
Zur Publikation

Mapping Cell Viability Quantitatively and Independently from Cell Density in 3D Gels Noninvasively

B. Archer, J. Mack, S. Acosta, R. Nakasone, F. Dahoud, K. Youssef, A. Goldstein, A. Goldsman, M. C. Held, M. Wiese, B. Bluemich, M. Wessling, M. Emondts, J. Klankermayer, L. Iruela-Arispe and L. Bouchard

IEEE Transactions on Biomedical Engineering
2021
Zur Publikation

Metal Recovery from Multi-elementary Electroplating Wastewater Using Passion Fruit Powder

B. d. P. Ramos, I. D. Perez, M. Wessling and R. F. Boina

Journal of Sustainable Metallurgy
2021
Zur Publikation

Mitigating Water Crossover by Crosslinked Coating of Cation-Exchange Membranes for Brine Concentration

A. Rommerskirchen, H. Roth, C. J. Linnartz, F. Egidi, C. Kneppeck, F. Roghmans and M. Wessling

Advanced Materials Technologies
2021
Zur Publikation

Particle movements provoke avalanche-like compaction in soft colloid filter cakes

A. Lüken, L. Stüwe, J. Lohaus, J. Linkhorst and M. Wessling

Scientific Reports
2021
Zur Publikation

Platelet count reduction during in vitro membrane oxygenation affects platelet activation, neutrophil extracellular trap formation and clot stability, but does not prevent clotting

P. Winnersbach, J. Rossaint, E. M. Buhl, S. Singh, J. Lölsberg, M. Wessling, R. Rossaint and C. Bleilevens

Perfusion
2021
Zur Publikation
Team