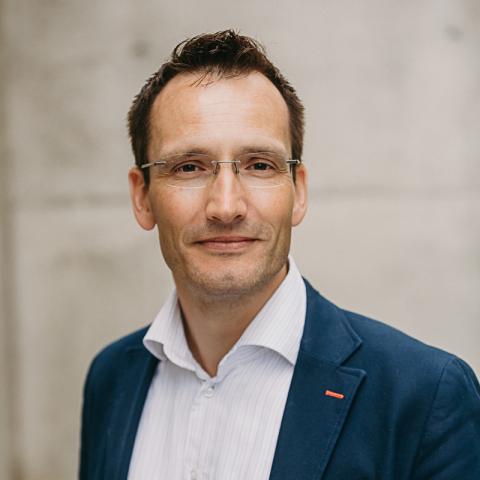 Scientific Director | Member of the Scientific Board
Prof. Stefan Hecht, Ph.D.
Chair of Macromolecular Chemistry, Institute for Technical and Macromolecular Chemistry, RWTH Aachen University
Research interest
Stefan Hecht's research interests are primarily devoted to the development of macromolecular and supramolecular systems and their assembly/integration into materials, able to interact with their environment and respond to specific internal and external stimuli. Particular focus is on the exploration of light-responsive units to optically control and drive biological, chemical, and physical processes to realize unprecedented material properties and achieve new device functions.
Stefan Hecht's publications via ORCID
Curriculum Vitae

Stefan Hecht was born in 1974 and grew up in Berlin, where he studied chemistry at Humboldt-Universität from 1992-1997. He carried out his Diplom thesis research in the area of organic photochemistry with the late Prof. William G. Dauben at the University of California, Berkeley. After receiving his diploma from Humboldt-Universität zu Berlin in 1997, he returned to Berkeley to pursue his graduate studies in the field of organic polymer chemistry under the guidance of Prof. Jean M. J. Fréchet and obtained his Ph.D. degree in 2001. Directly after, he started his independent academic career as a young investigator (assistant professor) at Freie Universität Berlin (2001-2004) and continued as a group leader (associate professor) at the Max Planck Institute for Coal Research in Mülheim upon Ruhr (2005-2006). From 2006-2019 he held the Chair of Organic Chemistry and Functional Materials at Humboldt-Universität zu Berlin. In August 2019, Prof. Hecht became the Scientific Director of the Leibniz Institute for Interactive Materials (DWI) in Aachen and holds the Chair of Macromolecular Chemistry at RWTH Aachen University.

 

Honors and Distinctions:

2013: BASF Lectureship by the Department of Chemistry at UC Berkeley
2012: Starting Grant (Consolidator Phase) of the European Research Council
2010: Klung-Wilhelmy-Weberbank Prize in Chemistry
2010: Fellow of the Royal Society of Chemistry
2005: ADUC Young Investigator Award of the German Chemical Society
2004: Top 100 Young Innovator Award of MIT's Technology Review
2001: Sofja Kovalevskaja Award of the Alexander von Humboldt Foundation
2001: Ernst Schering Research Foundation Postdoctoral Fellowship (declined)
1994-1997: Fellow of the German Academic Scholarship Foundation
1993: Jugend Forscht Young Chemist Award (federal & environmental prize, state winner)
1991: Jugend Forscht Young Chemist Award (state winner)

 

Professional Functions:

Current:

Since 2020 Fellow of the Max Planck School Matter to Life
Since 2020 Elected Member of the National Academy of Science and Engineering (acatech)
Since 2020 Elected member of the Academia Europaea
2019: Cofounder of start-up company Xolo
since 2018: Associate Editor of The Journal of Organic Chemistry (ACS)
since 2018: Editorial Advisory Board of ChemSystemsChem (Wiley-VCH)
since 2014: Executive Board of Advanced Science (Wiley-VCH)
since 2014: Executive Board of Humboldt-Universitäts-Gesellschaft

Past:

Advisory Board of Polymer Chemistry
2014 – 2019: Commission for the investigation of scientific irregularities at Humboldt-Universität zu Berlin
2014 – 2017: Academic Senate of Humboldt-Universität zu Berlin
2014 – 2015: Interim-Dean of the newly merged Faculty of Mathematics and Natural Sciences at Humboldt-Universität zu Berlin
2012 – 2014: Dean of the Faculty of Mathematics and Natural Sciences I at Humboldt-Universität zu Berlin
2012 – 2015: Standing Advisory Committee of Humboldt-Universität zu Berlin (Excellence Initiative)
2011 – 2012: Task Force & Forum Excellence of Humboldt-Universität zu Berlin
2010 – 2019: Academic Council of Humboldt Universität zu Berlin
2010 – 2012: Editorial Board of Polymer Chemistry (RSC)
2009: Founding Member of the Integrative Research Institute for the Sciences (IRIS) Adlershof
2008 – 2012: Vice Dean of the Faculty of Mathematics and Natural Sciences I at Humboldt-Universität zu Berlin
2007 – 2019: Mentor of the German Academic Scholarship Foundation

 

Scientific Affiliations:

Member of the American Chemical Society
Member of the German Chemical Society
Fellow of the Royal Society of Chemistry
Member of the European Photochemistry Association
Member of the Berlin-Brandenburg Association for Polymer Research
Projects
Publications

Titel/Autoren
Magazine
Jahre

Mechanistic Insights into the Photoisomerization of N,N′-Disubstituted Indigos

Š. Budzák, J. Jovaišaitė, C.-Y. Huang, P. Baronas, K. Tulaitė, S. Juršėnas, D. Jacquemin and S. Hecht

Chemistry – A European Journal
2022

A Photoprogrammable Electronic Nose with Switchable Selectivity for Vocs Using Mof Films

P. Qin, S. Okur, C. Li, A. Chandresh, D. Mutruc, S. Hecht and L. Heinke

Chemical Science
2021

Accelerated Discovery of α-Cyanodiarylethene Photoswitches

N. F. König, D. Mutruc and S. Hecht

Journal of the American Chemical Society
2021

Avoiding the Center-Symmetry Trap: Programmed Assembly of Dipolar Precursors into Porous, Crystalline Molecular Thin Films

A. Nefedov, R. Haldar, Z. Xu, H. Kühner, D. Hofmann, D. Goll, B. Sapotta, S. Hecht, M. Krstić, C. Rockstuhl, W. Wenzel, S. Bräse, P. Tegeder, E. Zojer and C. Wöll

Advanced Materials
2021

Binding of a Tlcl Entity by a Tetragold Tetramercaptothiacalixarene Metalloligand Via Metallophilic Interactions

N. Frank, I. Pryjomska-Ray, L. Grubert, S. Hecht, D. Usvyat and C. Limberg

This is an external publication.

Chemistry – A European Journal
2021

Chirality Remote Control in Nanoporous Materials by Circularly Polarized Light

A. B. Kanj, J. Bürck, N. Vankova, C. Li, D. Mutruc, A. Chandresh, S. Hecht, T. Heine and L. Heinke

Journal of the American Chemical Society
2021

Diarylethenes in Optically Switchable Organic Light-Emitting Diodes: Direct Investigation of the Reversible Charge Carrier Trapping Process

G. F. Cotella, A. Bonasera, G. Carnicella, A. Minotto, S. Hecht and F. Cacialli

Advanced Optical Materials
2021

Multiresponsive Nonvolatile Memories Based on Optically Switchable Ferroelectric Organic Field-Effect Transistors

M. Carroli, A. G. Dixon, M. Herder, E. Pavlica, S. Hecht, G. Bratina, E. Orgiu and P. Samorì

Advanced Materials
2021

Photocontrollable Modulation of Frontier Molecular Orbital Energy Levels of Cyclopentenone-Based Diarylethenes

A. G. Lvov, M. Herder, L. Grubert, S. Hecht and V. Z. Shirinian

Journal of Physical Chemistry A
2021

Reversible Training of Waveguide-Based and/or Gates for Optically Driven Artificial Neural Networks Using Photochromic Molecules

S. Y. Rhim, G. Ligorio, F. Hermerschmidt, M. Patzel, M. Herder, S. Hecht and E. J. W. List-Kratochvil

Journal of Physics D-Applied Physics
2021

Stabilizing Indigo Z-Isomer through Intramolecular Associations of Redox-Active Appendages

L. Broløs, K. Klaue, J. Bendix, L. Grubert, S. Hecht and M. B. Nielsen

European Journal of Organic Chemistry
2021

Ternary-Responsive Field-Effect Transistors and Multilevel Memories Based on Asymmetrically Functionalized Janus Few-Layer WSe2.

H. Qiu, M. Herder, S. Hecht and P. Samorì

Advanced Functional Materials
2021
Team