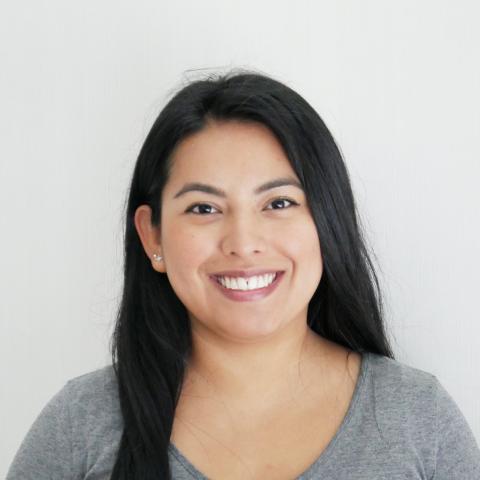 PhD student
Manuela Rosario Garay Sarmiento, M.Sc.
Research interest
The research work of Manuela Garay-Sarmiento focuses on the development of active, functional and fully biocompatible coatings that interact with human tissue, promoting healing and at the same time minimizing the risk of bacterial infections. The focus is on the synthesis of antifouling and antimicrobial macromolecules capable of simultaneously killing bacteria and repelling the adhesion of their debris providing in this way a superior protection (Kill&Repel coating). The combination of these macromolecules with functional building blocks ensures an excellent environment for tissue regeneration.
Manuela Rosario Garay Sarmiento is part of the RG Rodriguez-Emmenegger.
Projects
Publications

Titel/Autoren
DOI-LINK
Magazine
Jahre

A Green Solvent-to-Polymer Upgrading Approach to Water-Soluble LCST Poly(N-Substituted Lactamide Acrylate)s

M. Palà, H. El Khannaji, M. Garay-Sarmiento, J. C. Ronda, V. Cádiz, M. Galià, V. Percec, C. Rodriguez-Emmenegger and G. Lligadas

https://doi.org/10.1039/D2GC02780A
Green Chemistry
2022

Brush-Like Interface on Surface-Attached Hydrogels Repels Proteins and Bacteria

L. Witzdam, Y. L. Meurer, M. Garay-Sarmiento, M. Vorobii, D. Söder, J. Quandt, T. Haraszti and C. Rodriguez-Emmenegger

https://doi.org/10.1002/mabi.202200025
Macromolecular Bioscience
2022

Interactive Hemocompatible Nanocoating to Prevent Surface-Induced Coagulation in Medical Devices

J. Quandt, M. Garay-Sarmiento, L. Witzdam, J. Englert, Y. Rutsch, C. Stöcker, F. Obstals, O. Grottke and C. Rodriguez-Emmenegger

https://doi.org/10.1002/admi.202201055
Advanced Materials Interfaces
2022

Interactive Hemocompatible Nanocoating to Prevent Surface-Induced Coagulation in Medical Devices

J. Quandt, M. Garay-Sarmiento, L. Witzdam, J. Englert, Y. Rutsch, C. Stöcker, F. Obstals, O. Grottke and C. Rodriguez-Emmenegger

https://doi.org/10.1002/admi.202201055
Advanced Materials Interfaces
2022

Ionic Combisomes: A New Class of Biomimetic Vesicles to Fuse with Life

A. M. Wagner, J. Quandt, D. Söder, M. Garay-Sarmiento, A. Joseph, V. S. Petrovskii, L. Witzdam, T. Hammoor, P. Steitz, T. Haraszti, I. I. Potemkin, N. Y. Kostina, A. Herrmann and C. Rodriguez-Emmenegger

https://doi.org/10.1002/advs.202200617
Advanced Science
2022

Zwitterionic Dendrimersomes: A Closer Xenobiotic Mimic of Cell Membranes

A. Joseph, A. M. Wagner, M. Garay-Sarmiento, M. Aleksanyan, T. Haraszti, D. Söder, V. N. Georgiev, R. Dimova, V. Percec and C. Rodriguez-Emmenegger

https://doi.org/10.1002/adma.202206288
Advanced Materials
2022

Improving Hemocompatibility: How Can Smart Surfaces Direct Blood To Fight against Thrombi

F. Obstals, L. Witzdam, M. Garay-Sarmiento, N. Y. Kostina, J. Quandt, R. Rossaint, S. Singh, O. Grottke and C. Rodriguez-Emmenegger

https://doi.org/10.1021/acsami.1c01079
ACS Applied Materials & Interfaces
2021

Kill&Repel Coatings: The Marriage of Antifouling and Bactericidal Properties to Mitigate and Treat Wound Infections

M. Garay-Sarmiento, L. Witzdam, M. Vorobii, C. Simons, N. Herrmann, A. de los Santos Pereira, E. Heine, I. El-Awaad, R. Lütticken, F. Jakob, U. Schwaneberg and C. Rodriguez-Emmenegger

https://doi.org/10.1002/adfm.202106656
Advanced Functional Materials
2021

Oriented immobilization of Pep19-2.5 on antifouling brushes suppresses the development of Staphylococcus aureus biofilms

M. Vorobii, R. Teixeira-Santos, L. C. Gomes, M. Garay-Sarmiento, A. M. Wagner, F. J. Mergulhão and C. Rodriguez-Emmenegger

https://doi.org/10.1016/j.porgcoat.2021.106609
Progress in Organic Coatings
2021

Unraveling the Mechanism and Kinetics of Binding of an LCI-eGFP-Polymer for Antifouling Coatings

D. Söder, M. Garay-Sarmiento, K. Rahimi, F. Obstals, S. Dedisch, T. Haraszti, M. D. Davari, F. Jakob, C. Heß, U. Schwaneberg and C. Rodriguez-Emmenegger

https://doi.org/10.1002/mabi.202100158
Macromolecular Bioscience
2021