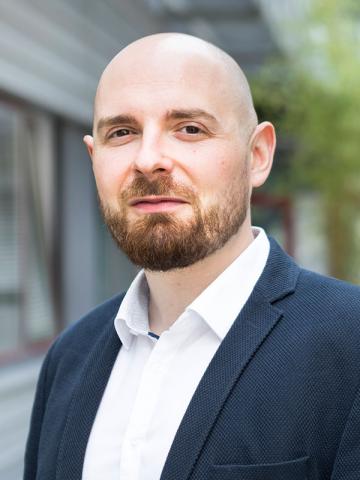 Independent Group Leader
Dr. Robert Göstl
Mechanoresponsive (bio)materials
Research interest
Robert Göstl's overarching research interest is to converge tailor-made responsive small molecules with macromolecules to exploit their intricate functionality on a material level. This, on the one hand, is interesting to gain access to materials with unprecedented properties, but more importantly is mandatory to understand the relationship of the molecular and macroscopic structure of materials in greater detail. The comprehension of how the remarkable properties of matter emerge from complex correlations of their atomic constituents and how they can be controlled is among the grand scientific challenges formulated by leading science institutions around the world. Robert Göstl's goal is to tackle this endeavor in a multidisciplinary approach, which is reflected in his group's composition. Originally educated in synthetic organic chemistry, he recognized that knowledge in materials chemistry and physics is also necessary to holistically describe complex material systems.
Robert Göstl's publications via ORCID
Curriculum Vitae

Robert Göstl studied chemistry at Humboldt-Universität zu Berlin and has been involved in photochromism research in the group of Prof. Stefan Hecht since 2009. There, he obtained his diploma degree in 2011 working on sterically crowded cyclopentene-bridged dithienylethenes for enhanced photoswitching performance. In 2014, he finished his doctoral research on furylthienylethenes for photocontrol over the Diels–Alder reaction to work on feedback mechanisms for smart mechanophores in the group of Prof. Rint Sijbesma at the Eindhoven University of Technology until 2016. At DWI - Leibniz Institute for Interactive Materials he is leading a Junior Group developing molecular tools to understand and harness mechanical stress in (bio)materials.
Projects
Publications

Titel/Autoren
Magazine
Jahre

Activation of the Catalytic Activity of Thrombin for Fibrin Formation by Ultrasound

P. Zhao, S. Huo, J. Fan, J. Chen, F. Kiessling, A. J. Boersma, R. Göstl and A. Herrmann

Angewandte Chemie International Edition
2021
Zur Publikation

Mechanochemical bond scission for the activation of drugs

S. Huo, P. Zhao, Z. Shi, M. Zou, X. Yang, E. Warszawik, M. Loznik, R. Göstl and A. Herrmann

Nature Chemistry
2021
Zur Publikation

Mechanochemical Release of Non-Covalently Bound Guests from a Polymer-Decorated Supramolecular Cage

R. Küng, T. Pausch, D. Rasch, R. Göstl and B. M. Schmidt

Angewandte Chemie International Edition
2021
Zur Publikation

Multicolor Mechanofluorophores for the Quantitative Detection of Covalent Bond Scission in Polymers

C. Baumann, M. Stratigaki, S. P. Centeno and R. Göstl

Angewandte Chemie International Edition
2021
Zur Publikation

Controlling Optical and Catalytic Activity of Genetically Engineered Proteins by Ultrasound

Y. Zhou, S. Huo, M. Loznik, R. Göstl, A. J. Boersma and A. Herrmann

Angewandte Chemie International Edition
2020
Zur Publikation

DNA hybridization as a general method to enhance the cellular uptake of nanostructures

H. Li, J. Fan, E. M. Buhl, S. Huo, M. Loznik, R. Göstl and A. Herrmann

Nanoscale
2020
Zur Publikation

Engineered Near‐Infrared Fluorescent Protein Assemblies for Robust Bioimaging and Therapeutic Applications

J. J. Li, B. Li, J. Sun, C. Ma, S. K. Wan, Y. X. Li, R. Göstl, A. Herrmann, K. Liu and H. J. Zhang

Advanced Materials
2020
Zur Publikation

Going with the Flow: Tunable Flow‐Induced Polymer Mechanochemistry

N. Willis-Fox, E. Rognin, C. Baumann, T. A. Aljohani, R. Göstl and R. Daly

Advanced Functional Materials
2020
Zur Publikation

Mechanochemical activation of disulfide-based multifunctional polymers for theranostic drug release

Z. Shi, Q. Song, R. Göstl and A. Herrmann

Chemical Science
2020
Zur Publikation

Methods for Exerting and Sensing Force in Polymer Materials Using Mechanophores

M. Stratigaki, R. Göstl

ChemPlusChem
2020
Zur Publikation

Polymer mechanochemistry-enabled pericyclic reactions

E. Izak-Nau D. Campana, C. Baumann and R. Göstl

Polymer Chemistry
2020
Zur Publikation

Quantifying Rate- and Temperature-Dependent Molecular Damage in Elastomer Fracture

J. Slootman, V. Waltz, C. J. Yeh, C. Baumann, R. Göstl, J. Comtet and C. Creton

Physical Review X
2020
Zur Publikation
Team