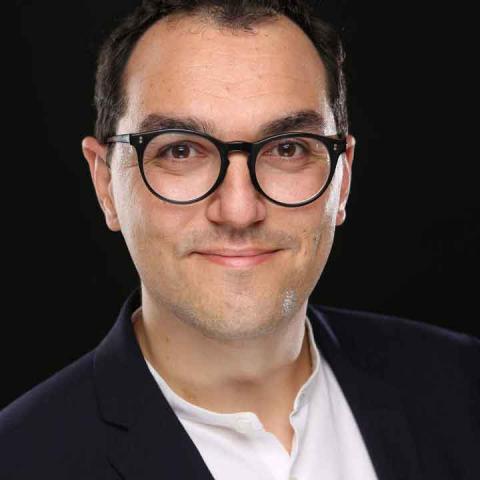 Associated Scientist, RWTH Aachen University
Dr. Jacopo Di Russo
Research interest
Jacopo Di Russo's research aims to understand the interplay of extracellular matrix biochemical and physical information in controlling epithelial mechanobiology.
Epithelia are sheets of cells self-organized either as a simple single-cell monolayer or as complex 3D structures. Their structures and functions are not defined by biochemical processes alone, but they are also highly dependent on their physical characteristics. These are emerging properties of cell collectives, not predictable from the single cell biomechanics.
Jacopo Di Russo's group studies epithelia mechanobiology with interdisciplinary experimental approaches including hydrogels technologies, organoids and mouse biology.
Curriculum Vitae

Jacopo Di Russo studied cell biology in Florence (Italy) for then joining the laboratory of Prof. Lydia Sorokin in Muenster (Germany) as Marie Curie Fellow. There he studied how extracellular matrix influences physiological responses. In 2015 he joined the laboratory of Prof. Joachim Spatz at the Max Planck Institute for Medical Research in Heidelberg (Germany) deepening his knowledge on cell adhesion at biophysical levels. Since 2019 he is an independent group leader at the Interdisciplinary Center for Clinical Research of the RWTH Aachen.
Publications

Titel/Autoren
DOI-LINK
Magazine
Jahre

Mechanobiological Implications of Age-Related Remodelling in the Outer Retina

T. Piskova, A. N. Kozyrina and J. Di Russo

https://doi.org/10.1016/j.bioadv.2023.213343
Biomaterials Advances
2023

Mechanobiological Implications of Age-Related Remodelling in the Outer Retina

T. Piskova, A. N. Kozyrina and J. Di Russo

https://doi.org/10.1016/j.bioadv.2023.213343
Biomaterials Advances
2023

Cells Feel the Beat – Temporal Effect of Cyclic Mechanical Actuation on Muscle Cells

Y. Chandorkar, C. Bastard, J. Di Russo, T. Haraszti and L. De Laporte

https://doi.org/10.1016/j.apmt.2022.101492
Applied Materials Today
2022

Combining Image Restoration and Traction Force Microscopy to Study Extracellular Matrix-Dependent Keratin Filament Network Plasticity

S. Yoon, R. Windoffer, A. N. Kozyrina, T. Piskova, J. Di Russo and R. E. Leube

https://doi.org/10.3389/fcell.2022.901038
Frontiers in Cell and Developmental Biology
2022

How do the Local Physical, Biochemical, and Mechanical Properties of an Injectable Synthetic Anisotropic Hydrogel Affect Oriented Nerve Growth?

S. Babu, I. Chen, S. Vedaraman, J. Gerardo-Nava, C. Licht, Y. Kittel, T. Haraszti, J. Di Russo and L. De Laporte

https://doi.org/10.1002/adfm.202202468
Advanced Functional Materials
2022

Integrin Α5β1 Nano-Presentation Regulates Collective Keratinocyte Migration Independent of Substrate Rigidity

J. Di Russo, J. L. Young, J. W. R. Wegner, T. Steins, H. Kessler and J. P. Spatz

https://doi.org/10.7554/eLife.69861
eLife
2021

Mechanobiology of Epithelia From the Perspective of Extracellular Matrix Heterogeneity

A. N. Kozyrina, T. Piskova and J. Di Russo

https://doi.org/10.3389/fbioe.2020.596599
Frontiers in Bioengineering and Biotechnology
2020

The role of basement membrane laminins in vascular function

R. Hallmann, M. J. Hannocks, J. Song, X. L. Zhang, J. Di Russo, A. L. Luik, M. Burmeister, H. Gerwien and L. Sorokin

https://doi.org/10.1016/j.biocel.2020.105823
International Journal of Biochemistry & Cell Biology
2020
Job offers