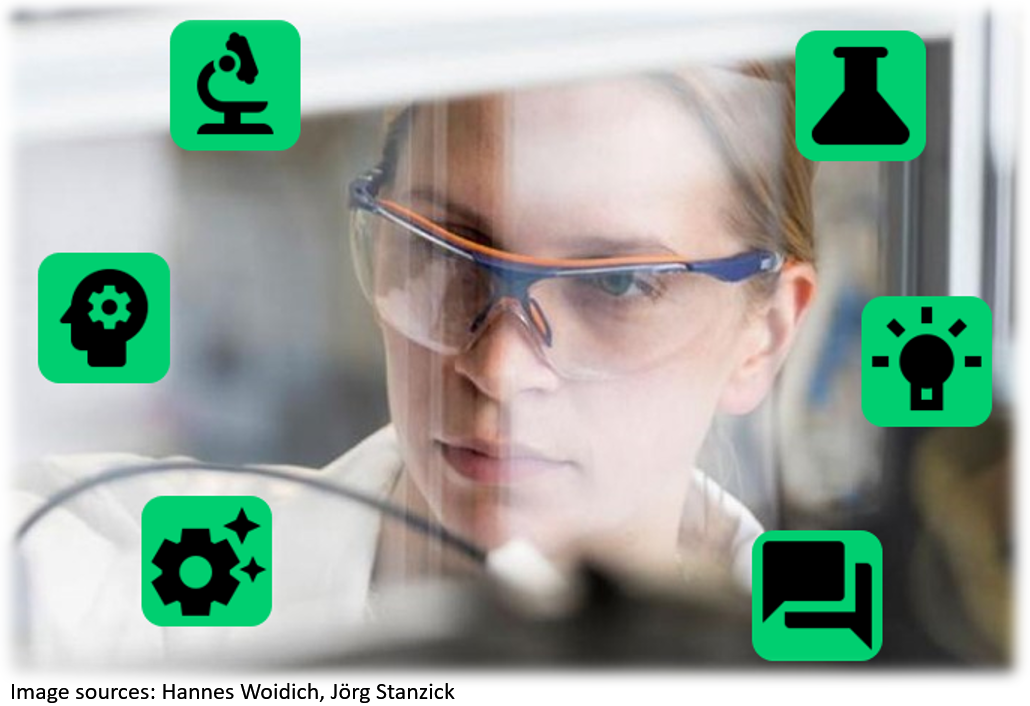 We are living in a material world. Static materials can be rendered dynamic by programming them to respond and even interact with their environment in a spatio-temporally controlled manner, giving rise to new properties and functions. They are designed to provide innovative and sustainable solutions to assure the efficient use of resources and energy, high-quality personalized healthcare, and smart information and communication technologies. At the DWI - Leibniz Institute for Interactive Materials in Aachen, Germany, an interdisciplinary team of synthetic macromolecular chemists, chemical engineers, biotechnology experts, and physicists is developing materials with advanced properties and active functions, inspired by nature's life-based materials.
Financially supported by the Association of Friends of DWI and by the ALTANA Group, a global leader in specialty chemicals for innovative technologies, we are initiating a new 'Women Interactive Materials Award' for talented, creative, and passionate young female researchers working in the field of active and interactive materials.
The award is aimed at accomplished female researchers on the postdoc career level. However, very accomplished late-stage Ph.D. students with a clear research vision and very early-stage independent group leaders that have just started their own groups will also be considered in the competition.
A summary of the last WIMA Symposium can be found here.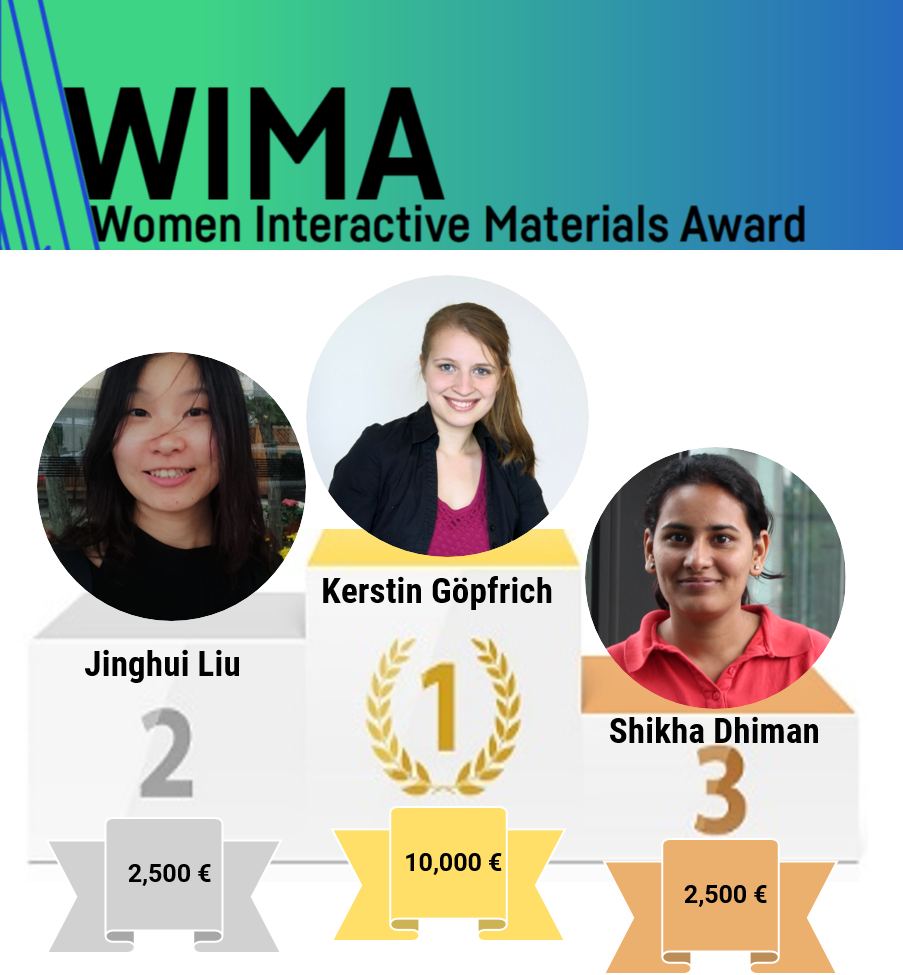 Karen L. Wooley holds the W. T. Doherty-Welch Chair in Chemistry, and is a University Distinguished Professor at Texas A&M University, with appointments in the Departments of Chemistry, Chemical Engineering and Materials Science & Engineering.  She also serves as Director of the Laboratory for Synthetic-Biologic Interactions.  Her academic training included undergraduate study at Oregon State University (B.S., 1988) and graduate study under the direction of Professor Jean M. J. Fréchet at Cornell University (Ph.D., 1993). She began an academic career as an Assistant Professor of Chemistry at Washington University in St. Louis, was promoted in 1999 to Full Professor with tenure, was installed in 2006 as a James S. McDonnell Distinguished University Professor in Arts & Sciences, and in 2007 received an appointment in the School of Medicine. Karen relocated to Texas A&M University in 2009.  Research interests include the synthesis and characterization of degradable polymers derived from natural products, unique macromolecular architectures and complex polymer assemblies, and the design and development of well-defined nanostructured materials.  Recent awards include fellowship in the National Academy of Inventors (2019), American Association for the Advancement of Science (2020), American Institute for Medical and Biological Engineering (2020) and the National Academy of Sciences (2020).  She is the 2021 Southeastern Conference Professor of the Year.  Entrepreneurial activities have included her serving as a co-founder and President of Sugar Plastics, LLC, and Chief Technology Officer of Teysha Technologies, LTD.  Karen currently serves as an Executive Editor for the Journal of the American Chemical Society, among many other advisory roles within the broader scientific community.
Petra Severit is a passionate, authentic and truly international leader with over 20 years of diversified background in engineering, R&D and business in global executive positions in the automotive supplier industry and the chemical industry. R&D management experience in product development, innovation, analytical laboratories, basic research and application development. Additional to the technical background work experience in strategy, strategic sourcing, business development and as managing director, as well as board member. Lived and worked in Germany, USA, China and the Netherlands.
Petra studied chemistry at the University of Cologne. After her diploma thesis at Bayer AG Leverkusen she finished her PhD in Polymer Chemistry at the Fraunhofer Organization Teltow, Germany in 2000.  She started her professional experience in the same year working in Product Development at NISSHINBO GROUP Leverkusen, Germany (TMD Friction GmbH). In 2003, she changed to NISSHINBO GROUP Troy, Michigan, USA (TMD Friction Inc.) doing Project Management, while in 2004, she returned to Leverkusen as Head of Global Raw Material Portfolio Management. In 2009, she became Director of Advanced Product Development at FEDERAL MOGUL in Bad Camberg, Germany and in 2013 she accepted an additional role in the Business Development Department for China of the same company in Shanghai. From 2014 until 2018, she became Director of Research and Technology at Royal DSM in Geleen, The Netherlands and accepted the position as Managing Director (2015 – 2018) at Royal DSM in Düsseldorf, Germany. Since 2018, she is Chief Technology Officer at ALTANA AG in Wesel, Germany and joined Velox Digital Tel Aviv, Israel in 2019 as a Board Member. Grants and Awards include the SAE Excellence in Oral Presentation Award, EuroBrake - Best Presentation Award, and the Award for excellent thesis with significant efficiency in practice from the Stiftung Industrieforschung.
Laura De Laporte is an associate professor at the DWI-Leibniz Institute for Interactive Materials and the RWTH University Aachen. She is a member of the Institute for Technical and Macromolecular Chemistry and the Institute of Applied Medical Engineering. She studied Chemical Engineering at the University of Ghent, Belgium, and finished her Ph.D. (2009) in Chemical and Biological Engineering at Northwestern University in the US. From 2009 until 2012, she did her postdoctoral research in Life Sciences at École Polytechnique Fédérale de Lausanne in Switzerland. She began an academic career as junior research group leader at the DWI-Leibniz Institute for Interactive Materials in 2013, received an ERC Starting Grant in 2015, and did her Habilitation in Chemistry in 2017. In 2018, she was awarded with the Leibniz Professorinnenprogramm, resulting in a joined W2 tenure track position at the RWTH and DWI. She received tenure in 2020. Her research group focusses on designing biomaterials that control and direct the interaction with cells. Low-invasive, polymeric regenerative hydrogel therapies, consisting of nano –and micron-scale building blocks assemble into structured and dynamic 3D constructs in situ to repair soft anisotropic tissues in vivo or study mechanobiology in vitro. In 2020, Laura became part of the Scientific Advisory Board of Advanced Healthcare Materials and an Associate Editor of the ACS Applied Materials and Interfaces.