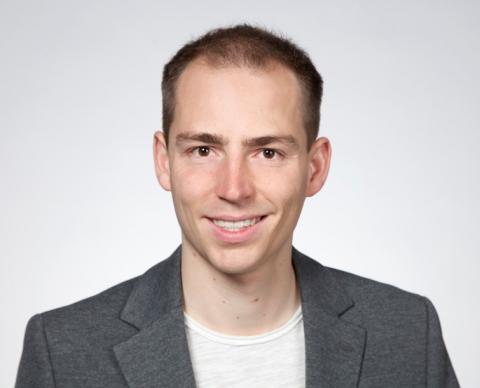 PhD student
Daniel Felder, M.Sc.
Research interest
Daniel Felder's research deals with the coupled charge transport of ions and electrons in structures of conductive polymers, electrolytes and polyelectrolytes and its application in neuromorphic devices similar to the structure of the human brain. Electrochemical methods and direct numerical simulations are used to gradually understand the properties of these devices and optimize them for future applications. The aim of the research is to develop possibilities to process information in soft polymeric systems.
Daniel Felder is part of the RG Wessling.
Projects
Publications

Titel/Autoren
DOI-LINK
Magazine
Jahre

Coupled Ionic–Electronic Charge Transport in Organic Neuromorphic Devices

D. Felder, R. Femmer, D. Bell, D. Rall, D. Pietzonka, S. Henzler, J. Linkhorst and M. Wessling

https://doi.org/10.1002/adts.202100492
Advanced Theory and Simulations
2022

Hands-on Kinetic Measurements and Simulation for Chemical Process Engineering Students

S. Herrmann, D. Felder, M. Padligur, S. Brosch, M. Geiger, F. Stockmeier, K. Baitalow, D. Rall, R. Femmer, F. Roghmans, M. Hauser, J. Mehlis, J. Linkhorst and M. Wessling

https://doi.org/10.1016/j.ece.2022.08.001
Education for Chemical Engineers
2022

Reminding Forgetful Organic Neuromorphic Device Networks

D. Felder, K. Muche, J. Linkhorst and M. Wessling

https://doi.org/10.1088/2634-4386/ac9c8a
Neuromorphic Computing and Engineering
2022

Discrepancy of particle passage in 101 mask batches during the first year of the Covid-19 pandemic in Germany

L. T. Hirschwald, S. Herrmann, D. Felder, A. M. Kalde, F. Stockmeier, D. Wypysek, M. Alders, M. Tepper, J. Rubner, P. Brand, T. Kraus, M. Wessling and J. Linkhorst

https://doi.org/10.1038/s41598-021-03862-z
Scientific Reports
2021

Porous PEDOT:PSS Particles and Their Application as Tunable Cell Culture Substrate

S. B. Rauer, D. J. Bell, P. Jain, K. Rahimi, D. Felder, J. Linkhorst and M. Wessling

https://doi.org/10.1002/admt.202100836
Advanced Materials Technologies
2021

Wet-Spun PEDOT/CNT Composite Hollow Fibers as Flexible Electrodes for H2O2 Production**

Q. Cui, D. J. Bell, S. Wang, M. Mohseni, D. Felder, J. Lölsberg and M. Wessling

https://doi.org/10.1002/celc.202100237
ChemElectroChem
2021

Towards synergistic oscillations in enzymatically active hydrogel spheres

D. J. Bell, D. Felder, W. G. von Westarp and M. Wessling

https://doi.org/10.1039/D0SM01548B
Soft Matter
2020

Two-Photon Vertical-Flow Lithography for Microtube Synthesis

J. Lolsberg, A. Cinar, D. Felder, G. Linz, S. Djeljadini and M. Wessling

https://www.doi.org/10.1002/smll.201901356
Small
2019