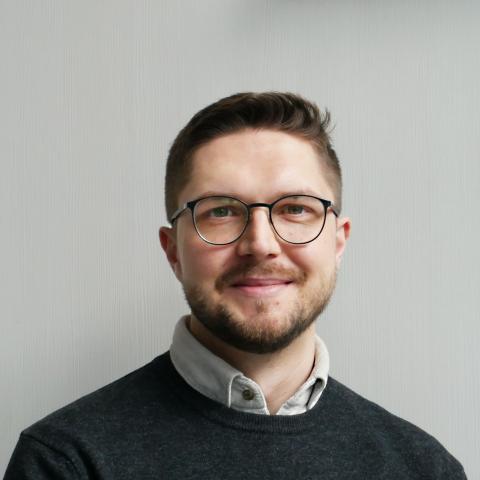 PhD student
Dirk Rommel, M.Sc.
Research interest
Dirk works on biocompatible anisometric microgels, which he prepares via microfluidics and uses to build stable macroporous scaffolds that support 3D cell growth. Furthermore, Dirk synthesizes thermoresponsive star-shaped polymers, which are employed to produce gels that reversibly collapse and swell in water above and below a desired temperature, respectively.
Currently, he is working on combining the dynamic properties of these microgels with the 3D macroporous scaffolds to exert controlled mechanical stress on living cells and to gain insights into cellular behavior and mechanobiology.
At DWI, Dirk is one of the responsible people for confocal and STED microscopy. In this way, he collaborates with many excellent scientists and learns about their exciting projects.
Dirk Rommel is part of the RG De Laporte.
Projects
Publications

Titel/Autoren
Magazine
Jahre

Functionalized Microgel Rods Interlinked into Soft Macroporous Structures for 3D Cell Culture

D. Rommel, M. Mork, S. Vedaraman, C. Bastard, L. P. B. Guerzoni, Y. Kittel, R. Vinokur, N. Born, T. Haraszti and L. De Laporte

Advanced Science
2022

Leucomethylene Blue Probe Detects a Broad Spectrum of Reactive Oxygen and Nitrogen Species

C. Cremer, J. M. Merkes, C. L. Bub, D. Rommel, F. W. Patureau and S. Banala

RSC Advances
2021

Drug Loading in Poly(butyl cyanoacrylate)-Based Polymeric Microbubbles

M. J. Liu, A. Dasgupta, P. Koczera, S. Schipper, D. Rommel, Y. Shi, F. Kiessling and T. Lammers

Molecular Pharmaceutics
2020

Multimodal and multiscale optical imaging of nanomedicine delivery across the blood-brain barrier upon sonopermeation

J.-N. May, S. K. Golombek, M. Baues, A. Dasgupta, N. Drude, A. Rix, D. Rommel, S. von Stillfried, L. Appold, R. Pola, M. Pechar, L. van Bloois, G. Storm, A. J. C. Kühne, F. Gremse, B. Theek, F. Kiessling and T. Lammers

Theranostics
2020

Unravelling colloid filter cake motions in membrane cleaning procedures

A. Lüken, J. Linkhorst, R. Fröhlingsdorf, L. Lippert, D. Rommel, L. De Laporte and M. Wessling

Scientific Reports
2020

A Layer-by-Layer Single-Cell Coating Technique To Produce Injectable Beating Mini Heart Tissues via Microfluidics

L. P. B. Guerzoni, Y. Tsukamoto, D. B. Gehlen, D. Rommel, T. Haraszti, M. Akashi, L. De Laporte

Biomacromolecules
2019

Compartmentalized Jet Polymerization as a High-Resolution Process to Continuously Produce Anisometric Microgel Rods with Adjustable Size and Stiffness

A. J. D. Krüger, O. Bakirman, L. P. B. Guerzoni, A. Jans, D. B. Gehlen, D. Rommel, T. Haraszti, A. J. C. Kuehne, L. De Laporte

Advanced Materials
2019

Microgels Sopping Up Toxins-GM1a-Functionalized Microgels as Scavengers for Cholera Toxin

S. Boesveld, A. Jans, D. Rommel, M. Bartneck, M. Moller, L. Elling, C. Trautwein, P. Strnad and A. J. C. Kuehne

ACS Appl Mater Interfaces
2019

Shelf-Life Evaluation and Lyophilization of PBCA-Based Polymeric Microbubbles

T. Ojha, V. Pathak, N. Drude, M. Weiler, D. Rommel, S. Rutten, B. Geinitz, M. J. van Steenbergen, G. Storm, F. Kiessling and T. Lammers

Pharmaceutics
2019

Dissipative disassembly of colloidal microgel crystals driven by a coupled cyclic reaction network

D. Go, D. Rommel, Y. Liao, T. Haraszti, J. Sprakel and A. J. C. Kühne

Soft Matter
2018

Engineering biofunctional in vitro vessel models using a multilayer bioprinting technique

J. Schoneberg, F. De Lorenzi, B. Theek, A. Blaeser, D. Rommel, A. J. C. Kühne, F. Kiessling and H. Fischer

Scientific Reports
2018

Programmable Phase Transitions in a Photonic Microgel System: Linking Soft Interactions to a Temporal pH Gradient

D. Go, D. Rommel, L. Chen, F. Shi, J. Sprakel and A. J. C. Kühne

Langmuir
2017
Team